14 STUDENTS FROM TEXAS AND OKLAHOMA NAMED 2018 COCA-COLA SCHOLARS
Nation's Premiere Scholarship Program Awards $20,000 to Each Student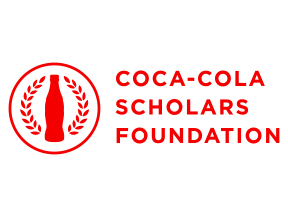 Fourteen exceptional seniors from Texas and Oklahoma have been recognized among the country's most outstanding high school leaders by the Coca‑Cola Scholars Foundation. Each student will receive a $20,000 scholarship award for college. The students are:
Shree Balaji, Liberty High School (Frisco, TX)
Thais Barron, McCollum High School (San Antonio, TX)
Micheal Brown, Mirabeau B. Lamar Senior High School (Houston, TX)
Robert Cranford, Wimberley High School (Wimberley, TX)
Jenny Ha, Western Heights High School (Oklahoma City, OK)
Cydney Knotts, Booker T. Washington High School (Tulsa, OK)
Lal Lawmi, Emmett J. Conrad High School (Dallas, TX)
Meghana Nadella, Allen High School (Allen, TX)
Syamantak Payra, Clear Brook High School (Friendswood, TX)
Diego Quirarte, Cathedral High School (El Paso, TX)
Laurel Reynolds, Claremore High School (Claremore, OK)
Saylor Snowden, John H. Guyer High School (Denton, TX)
Ryan Solis, Eastwood High School (El Paso, TX)
Lillian Sun, Westlake High School (Austin, TX)
As members of the 30th class of Coca‑Cola Scholars, these students not only exemplify superior leadership, service, and academics – they are also change agents, positively affecting others in their communities. Each was selected from a pool of nearly 140,000 initial applicants from across the country.
The Coca-Cola Scholars Foundation, a joint effort of U.S. Coca-Cola bottlers and The Coca-Cola Company, is one of the largest corporate-sponsored, achievement-based scholarship programs of its kind in the United States. In Texas, the Foundation is supported by the financial commitment of Coca-Cola Southwest Beverages and The Coca-Cola Company. The Coca-Cola Scholars Foundation was established in 1986 to commemorate the 100th anniversary of Coca-Cola and to bring better to the world through investment in exceptional high school students who are dedicated to leadership, service, and action that positively affects others. Including the 2018 class of Coca-Cola Scholars, the Foundation has awarded nearly 6,000 Coca‑Cola Scholars with a total of $65.5 million in scholarships. The Coca-Cola system believes that investing in students who are leaders, both academically and in service to others, will result in positive, lasting change and sustainable communities.
"These outstanding students are part of a diverse group of extraordinary high school seniors that has shown a steadfast commitment to educational excellence, leadership and service to the school and community," said Julie Hamilton, Chairman of the Board of the Coca-Cola Scholars Foundation and Senior Vice-President, Global Customer & Commercial Leadership, The Coca-Cola Company. "The Coca-Cola Scholars Foundation is proud to count them among our 2018 Coca-Cola Scholars."
On April 19, the four North Texas Scholars will join other Coca-Cola Scholars as they travel to Atlanta, the international headquarters of The Coca-Cola Company, for Scholars Weekend. During this four-day weekend, the Scholars will participate in a Leadership Development Institute to further develop their leadership skills, tour local landmarks, engage with Coca-Cola Scholars Alumni, and participate in a group community service project. The 150 Coca-Cola Scholars will also be the guests of honor at the 30th annual Scholars Banquet, where they will be celebrated by representatives from the Coca-Cola system, educators, local dignitaries, and friends of the Scholars Foundation. Sara Blakely, founder of Spanx and the Sara Blakely Foundation, will serve as the featured speaker.
In addition to receiving a $20,000 college scholarship, the North Texas Scholars will be welcomed into a vibrant and growing family of 6,000+ alumni that fosters lasting connections with each other and the Foundation. This alumni network has become a powerful force for positive change, coming together with a shared goal to refresh the world.
For a full list of 2018 Coca-Cola Scholars and their high schools, please visit: