Artist Spotlight:
Cody Vance
Cody Vance, a talented artist and veteran, explores a range of portraits, some familiar faces to him and others paying homage through the decades as he celebrates Veterans Day through his piece.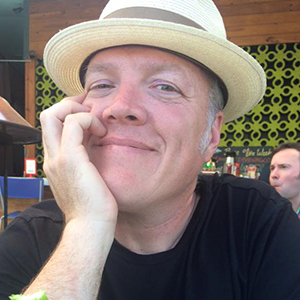 Get to know Cody:
Cody Vance is a veteran and artist living in San Antonio, Texas. During the week he's a medical illustrator, assisting military physicians in visualizing their research and healthcare for their patients. When the weekend arrives, it's playtime! He may begin his morning in the drawing room, a pencil or paintbrush in one hand, coffee in the other, music going always. Eventually, Cody will migrate to his workshop where stone, steel and ceramic sculptures await.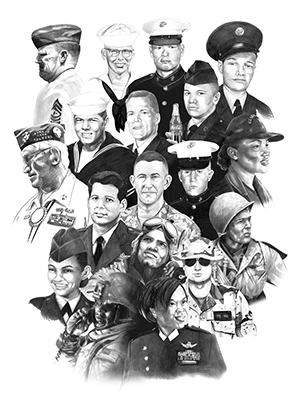 In Cody's's Words:
My piece for CCSWB Veterans Day is a hand-drawn collage of uniformed members from all services and various times throughout history: WW2, Korea, Vietnam, Iraq, Afghanistan, plus a couple of spotlights like a Tuskegee Airman and Navajo code talker. The majority of faces you'll see are my own family, which was quite the realization and a bit of education on my part to fill in gaps of unknown parts of familiar lives. I intentionally chose not to draw representations of weaponry or other similar items - I wanted to show the human instead. We're people - brothers, sisters, husbands, wives - who chose to serve our country for various reasons. The bonds that are made while serving run deep and the intra-service camaraderie (or playful chiding) are as colorful and strong as the humans themselves. We come from many places, backgrounds, languages and beliefs. When you spend most of your early adulthood in close contact and in some cases, extreme situations, with people different from yourself, you realize that you're better for it, and truly not so different after all.