Artist Spotlight:
Clarissa Martinez
Celebrate the vibrant colors and cultures of Hispanic Heritage Month with Clarissa Martinez's beautiful collage.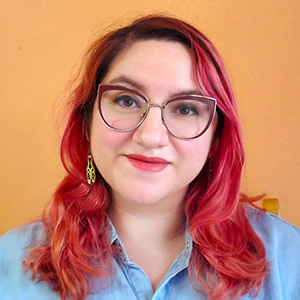 Get to know Clarissa:
Clarissa Martinez is an illustrator based in her hometown of Brownsville, TX. She has an MFA in Illustration Practice from the Maryland Institute College of Art.

Most of her work is inspired by her personal experiences, her culture and border town community. She's fond of drawing portraits, and she uses flower and foliage motifs to contribute to specific narratives in her work. She works in digital mediums and watercolor, with the occasional dabble in artist book making.

Clarissa is also a part-time lecturer at the local university, The University of Texas Rio Grande Valley, and at the local community college, Texas Southmost College, where she brings her experience as a freelance illustrator to the classroom.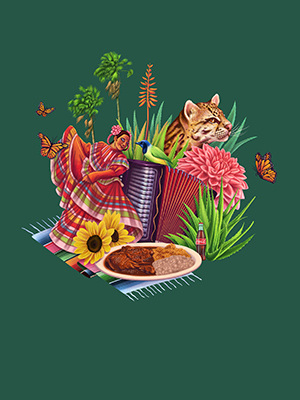 In Clarissa's Words:
My piece for Hispanic Heritage Month is an illustrative collage of motifs that celebrate life on the border by the sea in my community of South Texas. Hispanic Heritage Month celebrates the diverse communities of Latinx people within the country. For this piece, I knew it was going to be impossible to fit every culture and community into the composition in a way that honors and celebrates them completely.

In the end, I decided to draw what I know; home. The meals we must have with a side of Coca-Cola; the native flowers and wildlife we encounter every day; the dance performances that originated in Mexico and the music home grown in the Rio Grande Valley.

This illustration is meant to show that we celebrate who we are and where we come from every day. I hope this message of celebration and community resonates within other Latinx communities as well. May this piece bring you the same warmth and familiarity that reminds you of home, no matter where or who that may be.